"Then He got into one of the boats, which was Simon's, and asked him to put out a little from the land. And He sat down and taught the multitudes from the boat. When He had stopped speaking, He said to Simon, 'Launch out into the deep and let down your nets for a catch.'" —Luke 5:3-4 NKJV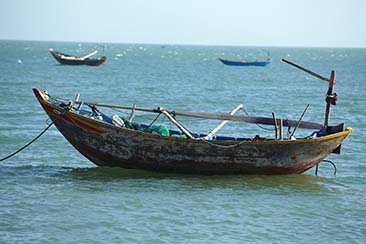 The Lord's simple requests are often stepping-stones to life's greatest blessings. When Simon Peter said "yes" to the Lord Jesus' two small requests, his whole mission changed from "fisherman" to "fisher of men."
An unproductive night's work no doubt left Peter weary, yet he willingly brought Jesus on board and then pushed his boat out from shore so the Teacher's words would carry to the crowd.
When the Lord finished speaking He told the experienced fisherman to head out to deeper water. Peter knew the timing for a good catch was wrong, but he obeyed and was blessed with not one, but two boatloads of fish!
Blessings often result from our compliance with seemingly insignificant requests. Although we prefer that the Lord ask us to perform great tasks that will impact large crowds, obedience in small things is our proving ground.
Had Peter refused to lend Jesus his boat or to risk a midday fishing expedition, he would have missed the immediate blessing of a big catch and perhaps the even greater opportunity to be used in His service for the salvation of souls.
What do we miss out on when we are not faithful in the little things?
By Timothy P. Hadley
For Enquiries, contact:
Tests Administrator,
ASSURE Educational Services
07063397940, 08050701465
[email protected]