Four children and four adults died in an accident because of a minivan that traveled in the wrong direction. It happened on a Sunday.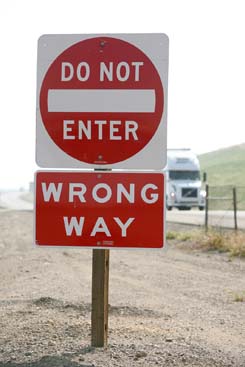 The minivan collided with two cars as it traveled southbound in the northbound lanes of the Taconic State Parkway near New York City. After striking a sport utility vehicle, the minivan flew into another vehicle before it rolled down an embankment and burst into flames, according to the Associated Press.
Those who died included the driver of the minivan and four of the five children inside, and three men who were inside the sport utility vehicle. The Associated Press reported: "It was the second wrong-way crash on the parkway on Sunday."
This tragic story is a strong reminder of our need to be alert and safe when driving a vehicle. It also is an illustration of a Bible message that addresses our relationship with God. According to the Bible, "There is a way which seems right to a man, but its end is the way of death" (Prov. 14:12 NKJV).
All too often, people choose a path in their search for God and find out too late they have chosen the wrong path. Some people believe that all roads lead to heaven and that all religions offer a way to God.
Some believe that sincerity is enough. Others take a different approach. They believe that we can find God through good deeds, a moral life, or intellectual enlightenment. Still others believe there is no God and that science or philosophy is all we need to find meaning and fulfillment in life.
People who hold these views may be sincere, but they are traveling the wrong road. They're going the wrong way and that is a problem.
When it comes to knowing God and having a personal relationship with Him, choosing the correct route is very important. You see, going the wrong way on a highway can result in tragedy, but going the wrong way in the search for God can result in something worse.
Without God we are lost. And, if we continue on the wrong path we will not find Him. It means we will remain in our sins, and this will lead to God's judgment.
The Bible says we are all sinners. As such we've all traveled the wrong path. "For all have sinned and fall short of the glory of God" (Rom. 3:23). It also states, "For the wages of sin is death" (Rom. 6:23). But that isn't all. The Bible says that the people who do not know God "shall be punished with everlasting destruction from the presence of the Lord and from the glory of His power" (2 Th. 1:8-9).
The fact is there is a God, and there's only one way by which we can know Him. There's only one way by which we can be saved from sin and have peace with Him. That way is Jesus, the Son of God. For He said, "I am the way, the truth, and the life. No one comes to the Father except by Me" (Jn. 14:6).
Because of God's love He has made it possible for us to know Him personally and to be saved from our sins. He promises forgiveness and eternal life to all who put their faith in Him. "For God so loved the world that He gave His only begotten Son, that whoever believes in Him should not perish but have everlasting life" (Jn. 3:16). Jesus died on Calvary's cross and was buried. He arose from the dead three days later. He "was delivered up because of our offenses, and was raised because of our justification" (Rom. 4:25).
Now that you've seen the correct way to God and what He did to save you from your sins, you have a decision to make. Will you continue going the wrong way? Or, will you accept the only way that God has provided? Will you put your trust in Him today? We can tell you how.
For Enquiries, contact:
Tests Administrator,
ASSURE Educational Services
07063397940, 08050701465
[email protected]