The Epistle to the Romans presents God as righteous. He is always right in whatever He says and does. And He is righteous when He condemns the sinner: "For all have sinned and fall short of the glory of God" (Rom. 3:23 NKJV). Besides the Lord Jesus Christ, in whom God declared that He had found His delight (Mt. 3:17), there is no exception to this rule.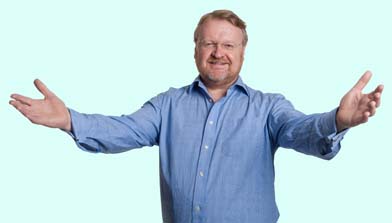 God is also righteous when He declares the repentant sinner to be right [righteous] before Him, "justified freely by His grace through the redemption that is in Christ Jesus (Rom. 3:24). "Justified" is the divine declaration that a human is right with God. This is based on who Christ is, His work on the cross when He was made sin for us that we would become right in Him (see 2 Corinthians 5:21), and His resurrection from among the dead (Rom. 3:25-26, 4:25), as these and other Scriptures explain.
What It Implies
This declaration of righteousness implies that no other means exists to reach it, because if that were possible it would question or even negate the validity of the work of Christ on the cross. When He said, "It is finished" (Jn. 19:30), it meant that everything that was needed for our redemption had been accomplished – that our debt toward God had been fully paid by Christ Jesus. That is why Paul boldly states that God's righteousness has been shown in Him and that God can justify the repentant sinner, declaring him right with God.
Paul states that this declaration is free, without any strings attached (Rom. 3:24-28). But One had to pay the price: our Lord Jesus. The other side of the same coin is described as follows: "By the deeds of the law no flesh will be justified in His sight" (3:20). As a result, there is no room for boasting, self-glory or exalting man. There is only One who gets the glory: "Of Him you are in Christ Jesus, who became for us wisdom from God – and righteousness and sanctification and redemption – that, as it is written, 'He who glories, let him glory in the LORD'" (1 Cor. 1:30-31).
All Other "Ways" Of Salvation Are Excluded
The beginning of Genesis 3 describes how the Serpent seduced Eve and how Adam transgressed God's commandment not to eat the fruit of the tree of knowledge of good and evil (Gen. 2:17). After they had fallen into sin they tried to find a solution and build their own righteousness by clothing themselves with aprons made of fig-leaves. They tried to "cover up" their nakedness before God and to be right with Him on their own terms. Yet when God called him, Adam confessed that he was naked for he realized that although he had clothed himself with fig-leaves, his own efforts were not able to make him suitable for God's presence. God removed them both from the garden and barred the access to the tree of life (3:24).
The account about the Garden of Eden, of what is usually called "the Fall" and what happened next, illustrates and summarizes the efforts human beings have made and are still making to be right with God on their own terms. By refusing God's terms and building on one's own efforts, no human will ever be right with God.
Here Is Where The Call For Repentance Comes In
In order to be right with God – on His terms – one needs to realize that God is the Creator and that every human being is responsible and accountable to Him. Romans 1-3 teaches these things in a very clear way, showing that repentance is needed: a radical change of thinking by introducing the truths of God to one's thoughts, to get right with Him. Revelation 20:11-15 shows how all who did not repent during the life-span that God allotted them will stand before the Great White Throne, even those who try to frustrate God's purposes and have their bodies cremated and their ashes poured out over the sea. The Judge, seated on that Throne, will be none other than our Lord Jesus Christ, the Savior-God. He is the Creator-God, the Sustainer of this vast universe, who became the Redeemer.
Those who reject His work for salvation, despising God's grace, will face Him as the righteous Judge (Acts 17:24-31). As we have seen in Romans, God is always right and righteous – and He will judge all in righteousness, in a right manner. Abraham understood this before Sodom and Gomorrah were destroyed (Gen. 18:25). What Abraham did not know yet is explained by Paul: God will judge by a Man whom He has appointed for this purpose, Christ Jesus, even though He came into this world to save sinners. Christ will be the One who will examine and condemn those who refused to repent and despised God's offer of salvation.
A Striking Illustration
During the many years when Noah was preparing the ark, God waited patiently for people to repent (Gen. 6-7). After Noah and his family finally had entered the ark, together with all the different kinds of animals except for the fishes, God waited for another seven days while the ark's door was kept open. No one came. After that – what a solemn moment it was – God closed the ark's door and immediately the Flood burst forth. At that point in time, no one was able to enter the ark of salvation, and all who had refused God's call perished. Today, God is still waiting for people to repent (see 2 Peter 3:15), even though many are mocking Him (2 Pet. 3). However, God's ultimate verdict and His judgment will come.
A Comforting Story
Many are familiar with the story of the prodigal son in Luke 15. As long as the day of grace continues God is drawing people to Himself through various means, while all who respond to God's call have repented and confessed their sins. The prodigal son came to himself (15:17) and saw things as they really were, in God's light. He did not try to improve his self-esteem, fix himself up or go to others for help. No, he got up and went back. His father saw him returning and knew that his son was a changed man, and he carefully listened to his confession.
Before his son could ask to be made like one of the servants, the loving and understanding father opened a wonderful storehouse. He had his servants bring out the best garment and clothe his son with it, put a ring on his hand and sandals on his feet. In other words, the father made the repenting son fit for his presence – fit for fellowship. He then ordered "the fatted calf" to be killed and to have a wonderful meal with all who wanted to join them. We do not read that the joy ever ended, for "they began to make merry" (15:24), to be happy. This illustrates the joy of those who accept Christ's work of redemption, who truly repent as the prodigal son did, honoring God and not seeking to build their own righteousness.
No Other Way
The elder son was greatly offended by this show of grace. He thought it to be unfair to him. His father showed him, however, that what he had done to his repenting brother was right and needed to be done that way (v.32). Why? Because God's standards had been fully met. The elder son did not care about his father's wishes – he only wanted to have fun with his friends (v.29). Those who seek to build up their own righteousness do not seek God's honor; in fact they are self-centered or selfish and accuse God of being unrighteous. But Romans and other Scriptures demonstrate that God cannot be unrighteous. Furthermore, God showed that He is righteous when He judged His own Son in our stead, and now He shows that He is a righteous God by accepting those who repent – adopting them as His own sons.
I once read a parable about a man who had fallen into a deep hole. The more the man tried to get out, the deeper the pit became and the more he got in trouble. Someone came along and told him that he should first improve himself. Another one passed by and said to the man that he should try harder. A third person told him to pray more. This continued until the Man Christ Jesus came and went down to the bottom and rescued this hopeless soul (see 1 Timothy 1:15).
These stories of the prodigal son and of the man in the hole bring the point across that there is no other way but the way of repentance and accepting God's provision in the Lord Jesus Christ. In the days of Christ on earth, several groups in Israel tried to build up their own righteousness: some by taking away from God's Word, others by adding many rules and regulations to it and many by compromising with the world. In contrast, the Lord Jesus was the only One who always kept the holy standards of God's Law. He did not add anything to them but kept all of God's holy and righteous demands. Then, as the supreme Sacrifice, God's judgment came on Him. As the true Substitute He took the place of those who repent, even though they deserve that judgment. God is right and He accepts all those who repent as they find refuge and salvation in His accomplished work. Those who try to be saved on the basis of their own efforts are in fact rejecting God's provision of grace. They compete with Christ, thinking that they are able to do it themselves like the poor man in that deep hole.
Scripture Confirms That Justification Is By Faith
I cannot say it better than Scripture does: "For the grace of God that brings salvation has appeared to all men, teaching us that, denying ungodliness and worldly lusts, we should live soberly, righteously, and godly in the present age, looking for the blessed hope and glorious appearing of our great God and Savior Jesus Christ" (Ti. 2:11-13). "When the kindness and the love of God our Savior toward man appeared, not by works of righteousness which we have done, but according to His mercy He saved us, through the washing of regeneration and renewing of the Holy Spirit, whom He poured out on us abundantly through Jesus Christ our Savior" (Ti. 3:4-6). Paul and Barnabas said it this way: "Therefore let it be known to you, brethren, that through this Man is preached to you the forgiveness of sins; and by Him everyone who believes is justified from all things from which you could not be justified by the law of Moses" (Acts 13:38-39).
Encouragement For Further Study
This wonderful topic of justification has many aspects to it besides that it is obtained by faith. Justification is also by grace, apart from the Law, through Christ's blood, by the gift of Himself and His obedience, and by God. There is much to think about and study – and for which to praise God!
By Alfred Bouter
For Enquiries, contact:
Tests Administrator,
ASSURE Educational Services
Broad Street, Lagos
07063397940, 08050701465
[email protected]
For enquiries and advert placement, contact: The Tests Administrator, ASSURE Educational Services Broad Street, Lagos 07063397940, 08050701465 [email protected]