In the past two issues we looked at the examples and principles of tithing in the Old Testament, extending our examination into the New Testament. Now we will conclude this subject by applying some of the Old Testament principles and lessons to our present Christian era.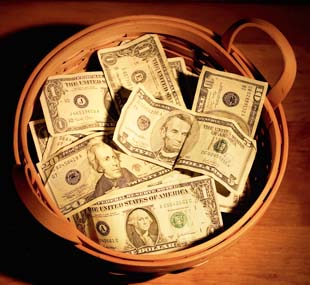 Having been set free from the Mosaic Law, Christians are now under grace (Rom. 6:14-15). This means that grace, the means of our salvation, should be the model for our lives. Since the Old Testament Scriptures were written for our learning (Rom. 15:4), the examples there outline godly principles from which we may gain some guidelines for Christian giving.
From Abraham's Example
As in Genesis, the Church epistles do not make it a requirement to tithe. It is a privilege to give voluntarily: "God loves a cheerful giver" (2 Cor. 9:7 KJV). A way to offer something to the Lord would be to donate it to someone who serves Him and who has been a blessing to the giver. Of course, each Christian should always realize that:
We have received the greatest blessing possible from our Savior-God – salvation and a relationship with Him through the Lord Jesus Christ.
The enemy of our souls has been defeated.
Therefore, we ought to use the material things of the world (1 Cor. 16:2) to give a tangible gift of thanks to the Lord. We may give freely, recognizing it all comes from Him: "But who am I, and what is my people, that we should be able to offer so willingly after this sort? For all things come of Thee, and of Thine own have we given Thee" (1 Chr. 29:14).
From The Bad Example Of Jacob
The Christian should never make a vow (or swear) to do something (Gen. 28:20-22). James 5:12 makes this perfectly clear. "But above all things, my brethren, swear not, neither by heaven, neither by the earth, neither by any other oath: but let your yea be yea; and your nay, nay; lest ye fall into condemnation." But if we decide with a definite prayerful intent – in agreement of both husband and wife in a marital situation – to give a portion of our income to the Lord, that resolution should be faithfully carried out.
From The Three Tithes
When looking at the tithes and calculating the percentage of an Israelite's income that they were commanded to give, the sum is significantly more than we often think. The first tithe was ten percent of their income from the fields, plus a tenth of all the animals that they owned – their total assets (Lev. 27:32). This could possibly make the rate of the first tithe 15 to 20% of an annual income. Add to this the second tithe – about another ten percent. And then every third year an additional tenth was to be shared with others in the town. This could easily bring the total up to somewhere between 26 and 33% of an Israelite's income! We note this here mainly for interest, recognizing that the Christian is not under the Law but a recipient and an example of grace. We may be encouraged to be gracious in our giving, using our funds for the purposes suggested by the three different tithes noted below.
From the first tithe of Numbers 18 we may learn that part of our earnings should be given to those who serve the Lord and teach us His ways (Gal. 6:6). The Lord wants those who serve Him full-time to receive from other believers the funds that they need to live on. This principle is taught in 1 Timothy 5:17-18 where it specifically records that "the labourer is worthy of his reward." It can really bless us to make this part of our giving available to those who have helped us in the understanding of God's Word. We may deliver a gift personally or send it with a letter identifying our thankfulness and appreciation for their services to the Lord and to His people. Giving to His servants not only helps them but it is "an odour of a sweet smell, a sacrifice acceptable, wellpleasing to God" (Phil. 4:18).
The second tithe of Deuteronomy 14:22-27 might teach us that it would be most reasonable to take some of the funds and use them to feast in the presence of the Lord. This could suggest that some of our "giving" money might be used to attend conferences, Bible camps or those places where the Lord's people can come together with the Lord Jesus into a desert place (away from the hustle and bustle of the world) and rest awhile in His presence (Mk. 6:31). Funds could also be made available to help pay Bible camp fees for those who otherwise can't afford to go, such as children of less advantaged families.
Then the third tithe in Deuteronomy 14:28-29 shows us something very different. Instead of giving to the Lord's servants or going someplace to feast in His presence, this one addresses the thought of hospitality and sharing. The poor and needy as well as the Lord's servants should be invited into our homes to enjoy the goodness of God's provision together! This is probably a more difficult lesson to institute than the other two as we would be opening up "our private space" and sharing "our stuff" with others. Caring for the poor and needy is the true religion acceptable to God (Jas. 1:27). Hospitality was exemplified by the Lord from the start of His ministry. When two disciples asked Him where He lived, He answered, "Come and see. They came and saw where He dwelt, and abode with Him that day" (Jn. 1:39).
From Old Testament References
Failure to give of one's income to the Lord by sharing with others will do two irrefutable [unquestionable] things: It will rob God and rob ourselves. Malachi pointed this out very clearly when he wrote: "Will a man rob God? Yet ye have robbed Me. But ye say, Wherein have we robbed Thee? In tithes and offering … Prove Me now herewith, saith the LORD of hosts, if I will not open the windows of heaven, and pour you out a blessing" (Mal. 3:8-10).
The general purpose behind the laws of tithing was two-fold: for God's glory and for the blessing of man. Our present day giving does the same. How can others see that the Lord has saved us unless there is a visible difference in our lives? We show what He has done by bringing forth fruits worthy of repentance (Lk. 3:8). And, does it not rob God when we fail to show Him our appreciation for the work the Lord Jesus did in saving us? The answer is seen in the Lord's question when only one healed leper returned to thank Him. "Were there not ten cleansed? But where are the [other] nine?" (Lk. 17:17).
What happened when the people of Israel failed in their tithing? The Levites left the temple and returned to their fields, forsaking the service of the house of God (Neh. 13:10-11). What happened when they didn't feast with others at the house of God? They soon forgot the God of their fathers and worshiped idols instead (Ps. 106:34-39). And what happened when they didn't take care of their poor? The destitute were sold into slavery (Neh. 5:5-8). Things are not much different in a present day scenario. When we neglect to supply for the needs of missionaries and for those who serve in the Church of the Living God, those dedicated to His service will suffer or be compelled to compromise their ability to serve full-time as they are driven to gain secular employment. If we neglect to take our families to places where we can holiday or spend time in God's Word together with other Christians, then the world and its habits will attract us. How many Christians, for example, can talk more knowledgably about movies than about the subjects of the Bible? And if we don't share with the poor we lose contact with a segment of society that can actually bless us.
Sharing My Conclusions
This study changed my way of thinking about giving. It pointed out the following principles for me to follow:
As a Christian, I do not have to tithe (Rom. 6:14-15), but a specified amount of my income should be set aside each week (1 Cor. 16:2) as "Thank YOU" money.
The decision as to what percentage of my income should be dedicated for distribution must be prayerfully made (with spousal agreement) so that it becomes a voluntary intent (2 Cor. 9:7).
Once an amount to give has been decided on, it becomes a resolution that I should faithfully and cheerfully carry out (2 Cor. 9:7).
The funds should be apportioned to:
Christian ministries (including the local church) and workers – especially those who have blessed and fed me (Gal. 6:6) and/or who do missionary work (Mt. 10:41-42),
Costs associated with opportunities to get to places where Christians can gather together to spend time in the Word of God, and
Opportunities that allow showing hospitality to fellow believers and the unsaved as well as sharing in and meeting the needs of the poor (Gal. 6:10). Money can easily be made available to the poor in foreign countries through missionaries or other Christians who can deliver it personally and so share in the fellowship of meeting needs (Phil. 4:18).
It is my heart's desire to glorify the Lord Jesus Christ in doing right as a steward of the funds and material things that He has given. Added to this, I seek the blessing gained in blessing others for His name's sake.
The churches in Macedonia showed an example that I have not attained. They gave abundantly out of their deep poverty, donating beyond their ability. They did this to provide funds for Paul to take to the needy in Jerusalem while allowing him to share in the fellowship of ministering to the saints. The reason they did this was because they first gave themselves (2 Cor. 8:1-5).
As a final thought, of course the greatest example of voluntary, sacrificial and gracious giving is our Lord: "For you know the grace of our Lord Jesus Christ, that though He was rich, yet for your sake He became poor, that you through His poverty might become rich" (2 Cor. 8:9).
By Hank Blok
God Loveth A Cheerful Giver
Each first day of the week they [the Corinthian believers] were all personally to lay aside a certain amount, not stipulated but as a matter of exercise on the part of each individual according to the measure in which God had prospered him. This is the wise and Scriptural order. The first day of the week is of course the day of Christ's resurrection, He Himself the firstfruits; and therefore it was the becoming day for thanksgiving for His perfect sacrifice and its blessed results, the day of suitable response to His own great gift of Himself. It is no legal claim, such as was the required tithe of the Old Testament; but if one under law could give a tenth, should this be difficult for one under grace? Nevertheless, each heart and conscience is left fully free before God to do that which is the fruit of his own personal faith. The measure is seen in 1 Corinthians 16:2: "as God hath prospered him"; and also in 2 Corinthians 9:7: "Every man according as he purposeth in his heart, so let him give; not grudgingly, or of necessity; for God loveth a cheerful giver."
—Leslie M. Grant, Comments on First Corinthians
For Enquiries, contact:
Tests Administrator,
ASSURE Educational Services
07063397940, 08050701465
[email protected]